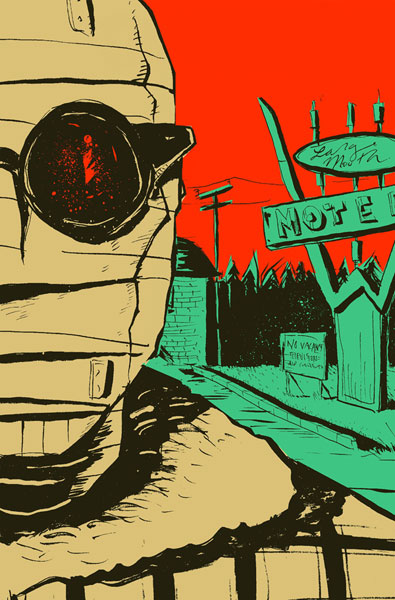 Let's hope Jeff Lemire doesn't sink into the same cesspool that David Lapham is apparently wallowing in. Both are writer/artists, both come from true indie publishing backgrounds, and both worked primarily in black and white. And both, sadly, made the jump to DC's Vertigo line.
To say that Lapham's post-Stray Bullets (his indie title) work has been a letdown would be like saying the Hindenburg was a letdown. Let's face it: his major publisher work has been terrible. This is Lemire's first work for Vertigo, and instead of a monthly series, he's started off with a standalone graphic novel. The NOBODY is pretty much a modern day retelling of the H.G. Wells classic, "The Invisible Man." Certain changes from the original have been made, such as the setting now being a small rural town in the midwest, the main character (Griffen) is nowhere near as big of a dick as he was in the novel, and (spoiler alert!) it ends differently. At least, I think it does. I read the Wells' original quite a few years ago, now.
Thankfully, all in all, this is a pretty good book. Lemire's previous works, the Essex Country books and Lost Dogs, have all been a bit melancholic and slow-paced, to say the least. Not to say that they weren't good; I'm a big fan of his indie stuff, and this new title is at least as good, if not waaaaay better. It's much more fast-paced, and has somewhat of a 'big budget' vibe to it. Which is not to detract from the quality of the work itself; none of these changes come at the expense of his talents.
Lemire's next series for DC is coming out soon. In fact, it may already be out. It's about some kid with antlers or some shit like that. So far, he's batting a thousand, so I have high hopes for the new book (whose name escapes me). Unfortunately, I didn't order it because I figured I'd just wait for the trades. Most people probably feel the same way, and the book might die a slow death on the vine. Let's hope not.